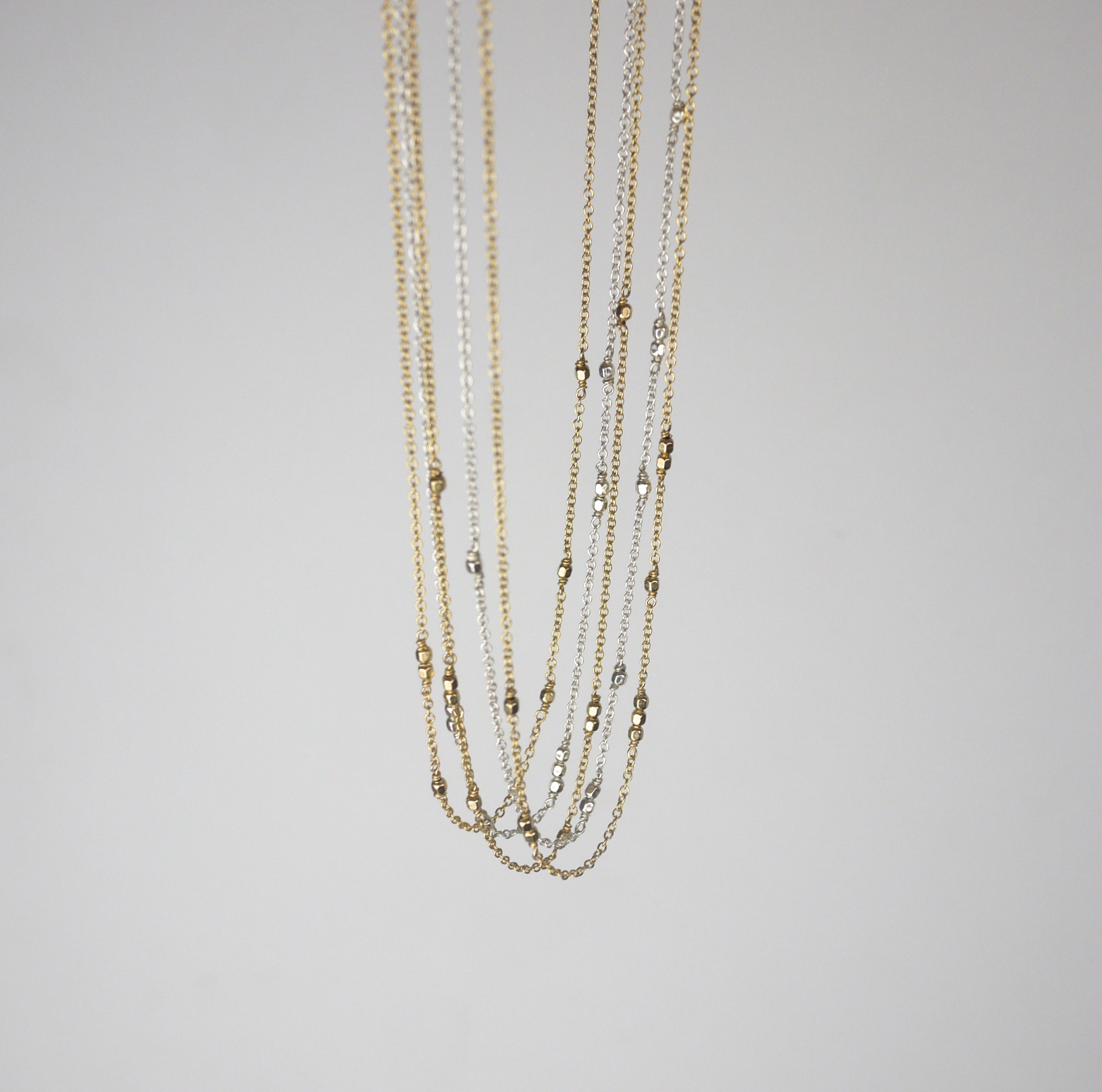 Love Code Necklace
This Morse code necklace features faceted nuggets hand-strung along delicate chains, to spell out your unique message: a gentle reminder, a beloved name, a daily mantra, a love note. It will sparkle quietly all day long, a secret that only you know.
View our other Morse Code jewelry here.
Details:
+ Hand-strung beaded necklace
+ Select from 16, 17 or 18 inches total length (contact us for a different custom length)
+ Morse code translator
+ Learn about metals and care tips here
+ Made to order in NYC. Please see our current production time frame.
Customer Feedback:
"A morse code necklace is such a beautiful idea! Dainty and shiny and overall the perfect layering piece." ~ Jill
"I received this necklace for my first Mother's Day, with my daughter's name spelled out. It feels sturdy and high-quality and is a great complement to any outfit, regardless of the occasion." ~ Vanessa
"My mom cried when we gave her the necklace and hasn't taken it off since." ~ Erika
"I was looking for something for my friend who is acting as my officiant. This is a great way to give someone a special gift with a personal message. It shipped quickly and was even more perfect than the pictures look." - Jamie
"I love this store!!!! The product is absolutely beautiful and the service is unlike any I've ever seen. Thank you so much! My friend (a new mom) cried when she opened her gift. She absolutely loves it!" - Jen
"From my beginning questions with Shuang about how the sequencing of the characters worked to the beautiful finished necklace for my mom, Everli Jewelry has blown me away with their level of genuine care." ~ Angela
"I love my necklace! It's beautiful work and is perfect for everyday wear or dressier occasions." ~ Melanie
YOU MIGHT ALSO LIKE